When we say "No Games", we meant it! Our goal is complete transparency. We are brutally honest (but still really nice). Every car includes the original price we paid for the car, how much we have spent getting the car ready for sale, and our actual profit! Who else honestly tells you what they paid and what they are making? We simply sell our cars at the lowest price we can and save you from all the price haggling. We also include a full CARFAX history report, a copy of the safety inspection, and our mechanics 50-point inspection report. All additional services and fees are entirely optional (except for sales tax, sorry, it's the law). You will never experience a pushy or sneaky salesman. Due to our minimal profit margin, our vehicles are offered as-is. If you would like extra piece of mind, we sell a full range of warranties. If you need financing, we have partnered with great lenders for all kinds of credit and our skilled employees will work hard to get you the best loan for your situation. As a bonus, if you buy a vehicle from Three Peaks, you will automatically become a V.I.P. customer at our Service Center for all future maintenance needs and pay the lowest rate in town!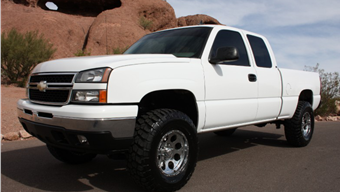 "The last dealership
that you'll ever
buy from again!
When we say, 'no games'
we really mean it"
Dan Jessen, Owner
Featured Vehicles

Dealership Hours
Monday to Friday
10:00 AM to 5:30 PM
Saturday
By Appointment
Sunday
Closed